DATA BACKUP AND RECOVERY
Data Backup| Data Replication| Fast Recovery
Secure Replication
Attention:
Are You Sure Your Backups Are Recoverable?
The Ultimate Choice When Data Protection is Critical
Why Choose Thin-nology Backup and Recovery Services For Your Business
How We Protect Your Data
If your important data is lost or stolen, it can spell disaster for your company. Scalable and managed file cloud storage opens up a whole new world of data protection and organization. Additionally, it allows easy access if you're working remotely. Discover the difference between public cloud vs private cloud storage. 
FAST DATA DEDUPLICATION
Our solution analyzes data blocks quickly and eliminates duplicates, saving you time, space, and money. 
OFFSITE VAULTING
This can be a good choice for organizations with complicated policies for data retention and/or limited budgets.
CONTINUOUS UPDATING
Our backup servers check for new files and changes every few minutes. This ends up saving you time in the long run.
CLOUD STORAGE AND DATA REPLICATION
Your data will get replicated and stored off-site. Encryption ensures that no one can access or steal your data while it's being transmitted or at rest. 
BACKUP FOR CLOUD SERVICES
Clients using a SaaS solution can benefit from backup and disaster recovery too. We can help guard against data loss caused by human error.
INSTANT DATA/CONFIGURATION
If your systems suddenly go down, you can start recovering your live data instantly. We can get your Vault data to your location the following business day.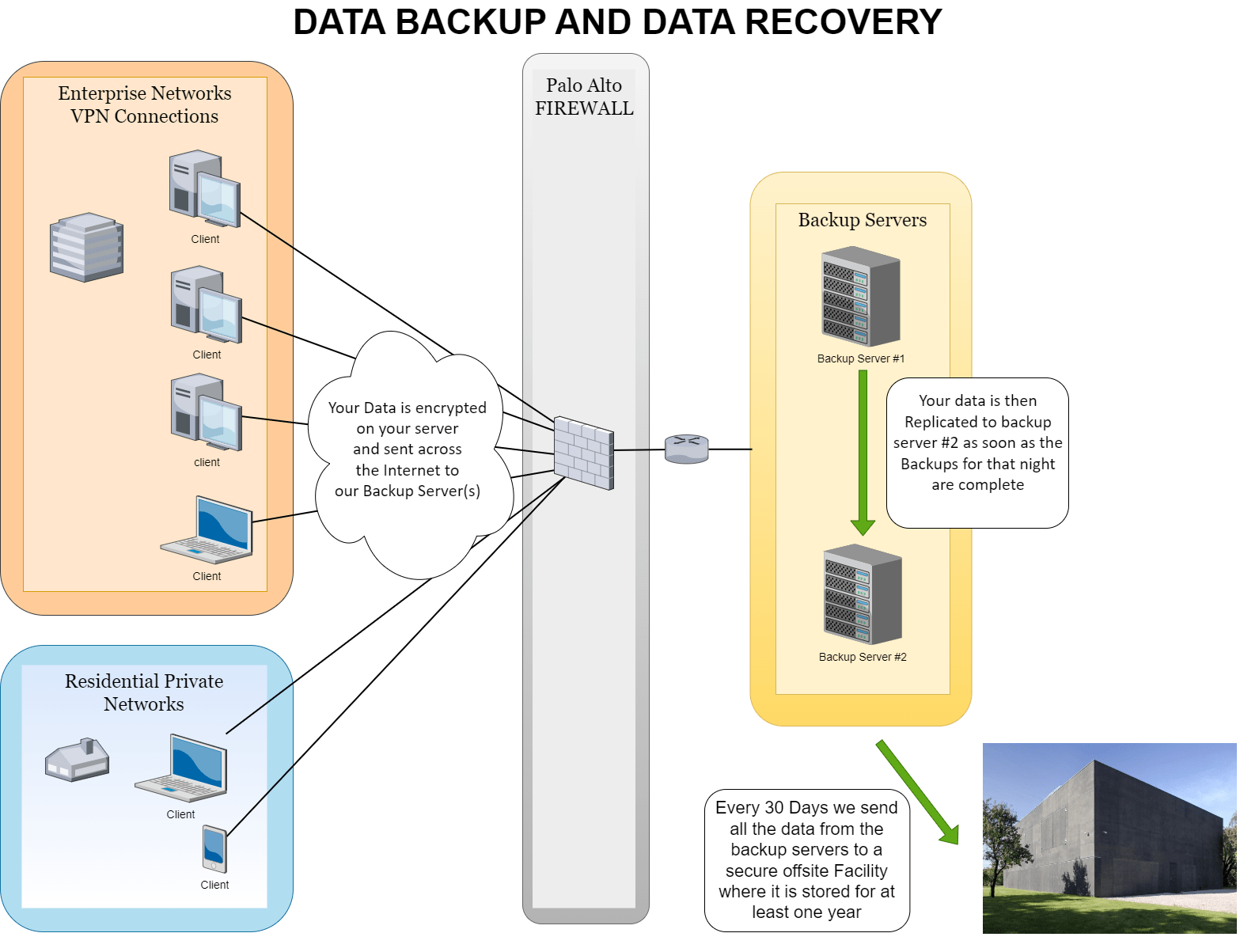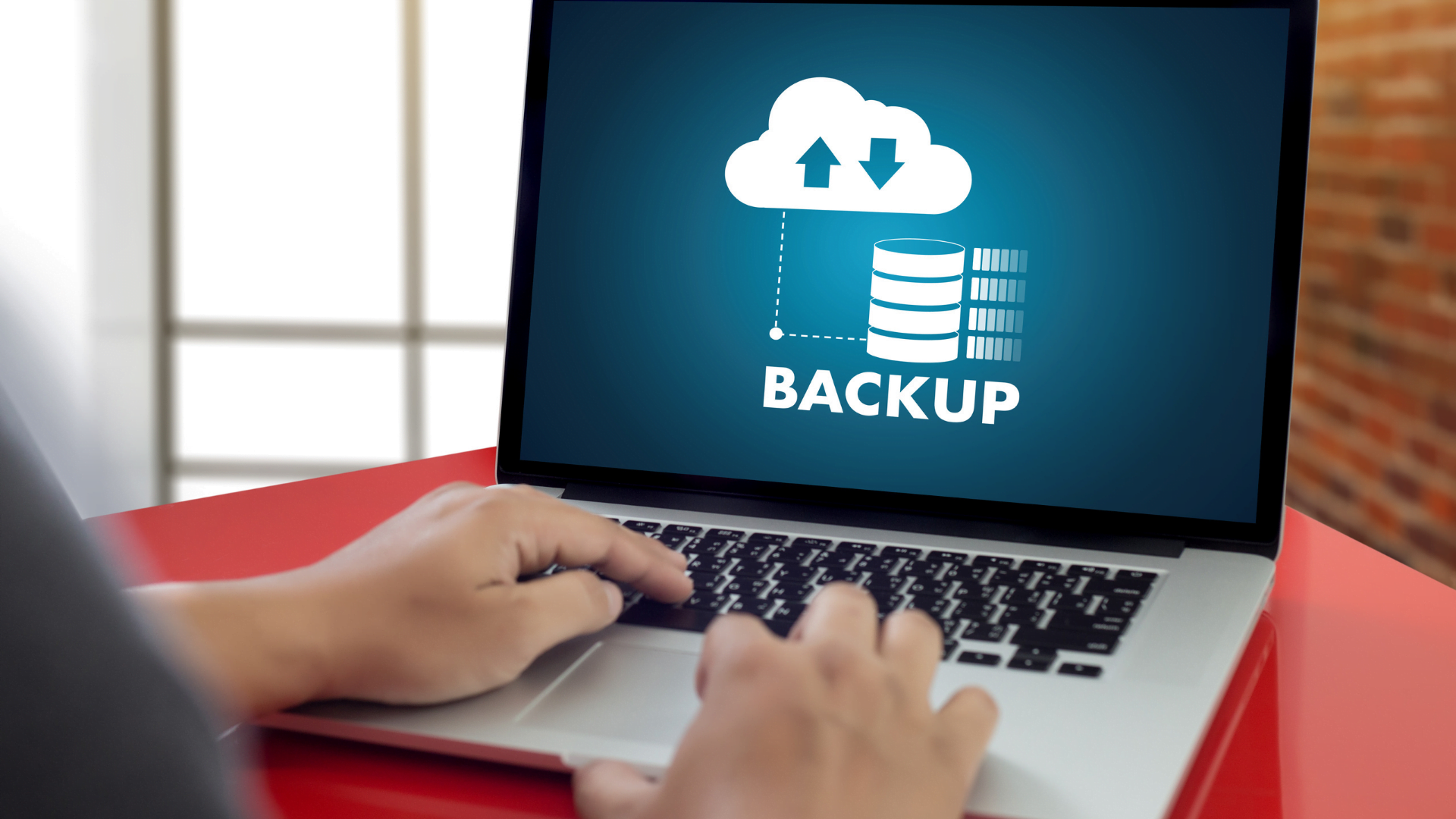 Supported environments:
Unlimited Data
Unlimited Servers
NAS Devices such as QNAP
Contact us today to schedule a free, no-obligation disaster recovery analysis. We'll analyze your existing systems, potential threats, and their anticipated impact, and any existing data recovery systems you may have in place.
Backup and Recovery Plans
| | | |
| --- | --- | --- |
| Features | Basic | Premier |
| Automatic cloud backup | X | X |
|  Support 24/7 | X | X |
| External Hard Drive backup | X | X |
| Remote file access to computer files | X | X |
| Encryption | X | X |
| AntiVirus |   | X |
| HIPAA support |   | X |
| Centralized management & admin controls |   | X |
| Image Backup and Bare Metal Restore |   | X |
| Backup for databases & applications |   | X |
One of the keys to our success is our methodologies. We don't trust technology. Especially when it comes to data backup. That is why our engineers physically check every client backup every day. We duplicate your backed up data twice. Once, to offsite servers, and then each month we copy all the data from our backup servers to hard drives and send them to an offsite, secure, storage facility. Some say this is overkill, listening to customer's experience stories tell us otherwise.
What type of files are backed up and how often:
Thin-nology backs up all flat files, database files, SQL Servers, and other "application specific" databases and files (see our Dallas Remote Working Solution).
How Often Are My Files and Databases Backed UP?
Data is backed up between 10:00PM and 5:00AM each and every day. The exception to this is Database files. If your organization has what we deem as high transactional databases then these are set to backup at more frequent intervals. This is to ensure that in the event of a catastrophic incident the amount of data to be recaptured is kept to a minimum.
How long does it take to restore files?
It actually takes 3-4 times longer to restore data than to back it up. The reason for this is versioning. Backup system performs what is called an incremental backup. So, you could have some files that have been modified from one day to the next. The backup systems know this and so when recovery for a certain file takes place it has to recover all versions of that file. The time to restore a typical file, is a matter of seconds, for a database that says 1GB this could take 30 minutes.
Why You Need Back Up & Recovery Services Today
Investing in Backup & Recovery Services in today's information age is common sense. Data loss comes in many forms and can strike at a moment's notice.
Human Error
No one is perfect, and that includes your employees, executives, and IT workers. Human error accounts for enormous amounts of data loss. Safeguard your company against inevitable mistakes that would otherwise lead to data loss by investing in Data Back Up & Recovery Services.
Technology Can Fail
As we mentioned above, we don't trust technology. All equipment, even the best tech, has the potential to fail. Protect yourself from in-house technology failure that can lead to the loss of critical data by using professional Data Back Up & Recovery Services.
Natural Disasters are Inevitable
Natural disasters are increasing in number each year. Flooding, fires, hurricane, and tornados can damage your in-house servers beyond repair, causing you to lose important company data. Our professional data center takes every precaution imaginable to protect your data from unpredictable disasters.
Theft is on the Rise
Corporate theft is no laughing matter. Your sensitive data is sensitive for a reason. Intimate employee data, financial information, or unique intellectual property are constantly at risk. Investing in Data Backup & Recovery Services ensures you're able to protect your data from corruption and theft.
Thin-nology – A Thin-nology Data Services Company